In a recent blog on their Disney Park Blog the company famed for Mickey Mouse, Bambi and more recently Marvel, talks about how their solar strategy includes solar car parks.
Solar car parks are a part of the full solar strategy employed by Disney that aims to give back to the communities that support the Disney company. As part of their Earth Day celebrations, Disney highlighted the solar facilities that they have undertaken throughout the globe. These include:
solar panels on top of theme park attractions
a unique solar farm in the shape of, you guessed it, Mickey Mouse
a solar car park in Disneyland Paris
a solar farm in the Bahamas and another in Florida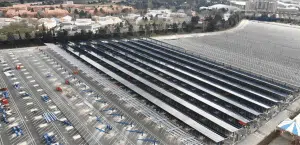 The solar car park in Disneyland Paris is critical to the strategy.
Disneyland Paris is setting the standard for solar energy in Europe – working on one of the largest solar canopy plants in collaboration with Urbasolar. These solar canopies will provide practical and innovative use of 67,500 solar panels sitting atop an outdoor guest parking lot.
At PV Structures we love seeing how our partners around the world innovate with solar, and especially with solar car parks (or solar canopies as they are termed in Paris). We know there is plenty of space and enthusiasm for solar around the world. But none comes close to the potential right here in Australia.
Disney is working towards reaching net zero emissions by 2030 – a fantastic goal. Of course, Disney can see that solar car parks are an important part of the plan to reach this goal. Let's see what other companies, in Australia and throughout the world meet them in this goal as we head into the future.
If you would like to find out more about solar car parks, solar canopies or commercial solar carports, then get in touch with our team.